Applying Principles of Federal Law to Colorado
We Are Looking To Build A Dream Team
So What Are We Going To Do About State Arbitrariness & Capriciousness?
Arbitrariness & Capriciousness is NOT Something We Can Tolerate From State Gov't

​We have a lot in common w/ the State -- & working together is surprisingly hard
We Won't Follow If the State Doesn't Lead BUT If the State Leads-- We'll Follow
"The World Needs Different Kinds of Minds" AND So Does Colorado State Gov't
CO's Olmstead Plan is Winding Down --
We're Looking At Legislation for the Next Legislative Session to Task the State with the Next Round of Olmstead Planning & Still Pursue Our Pared Down Declaratory Judgment Action
​


CO's Olmstead Plan is "Too Vague" --
Minnesota's Revised Plan Approved By A Federal Court

"The Court applauds the parties for their collaboration in developing this landmark Olmstead Plan. Simply put, this revision of the Olmstead Plan is unlike any other version submitted to the Court. The Court fully expects the State to act on its promises to ensure that the Olmstead Plan will truly put the promise of Olmstead into practice across the state."

Minnesota Olmstead Plan Site

​
Divergent Thinking --- Race, Mental Health, The Criminal Justice System & Stakeholder Groups
​
We Are Looking for Agreement . . . AND We've Got to Have the Inclusion of Divergent Thinking -- It's the Source of Infinite Possibility
What We Are Contemplating with Respect to Our CO MI Olmstead Complaint:
Perspective & the 3rd Alternative
ABA Commission on Legal Problems of the Elderly
Building Coalitions in Aging, Disability and Dispute Resolution
Necessity Is the Mother of Invention
Mandatory Alternative Dispute Resolution
(by Statute)

We're looking to narrow our CO MI Olmstead Complaint to:
1. Housing
2. Assertive Community Treatment, &
3. Benefit Application Assistance

We will probably be looking to pursue the other claims in separate lawsuits as we are able, those include claims to bring drug treatments to scale to meet the need as well as Person-Centered, Strength-Based Discharge Planning at the Mental Health Institutes.


You Know You've Got a Bad Gov't When --
The State Won't Agree to Strength-Based Discharge Planning

​Systemic Legal Advocacy for People with Mental illness who are Homeless & or Incarcerated, & a Resource Center for the Community
Oh, That Other Cost of Mental Health Systemic Failure -- Scapegoating
More On Application Assistance: It's a Familiar Story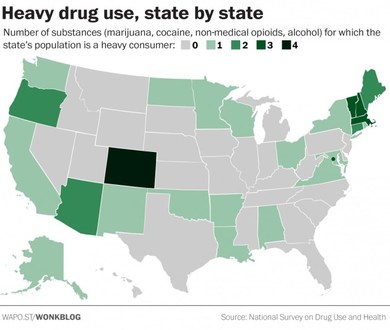 ---
'Every societal failure, we put off on cops to solve…That's too much to ask'
‒ Dallas police chief
We've Got Housing Trusts in the US
So Why Is Housing a Problem for People with Mental Illness?


The Hill
"But Generations of Neglect and Inequity

keep services out of the reach of those desperately in need of care"
A Conundrum for the States -- A Nightmare for People with Mental Illness:
​The ADA & Olmstead require States to provide Housing in certain circumstances to people with disabilities to avoid unnecessary institutionalization; BUT Housing is NOT a Federal Entitlement like Medicaid
It Just Keeps Coming . . .
Why Is Michael Marshall Dead?
Of Course, All Lives Matter
BUT Sometimes We Don't Really Act Like Black Lives Matter, or the Lives of People with Mental Illness
House Passes Mental Health Reform

America's Female Prison Population Has Grown 800% & Nobody Is Talking About It --
Well, the Boulder Co. Sheriff is Talking About It.


The Perils of State Indifference for the Mental Health Community
State Mental Health Cost Shifting to County Jails Exposes the Moral Choices States Have & Continue to Make
First, we don't know any better;
Then, we know better but we don't do better;
Now, We know better & WE CAN DO BETTER!
Hey Babies, There's A Lot of Diversity Out There -- & If We Don't Educate Ourselves, We Can Make People Sick
We Just Don't Feel the State Is Taking the Moral High Ground
Discrimination that Shocks the Conscience:
Trading the Hospital Room for the Jail & Prison Cell
Colorado G-DDAM!
Comments from
the Orchid Facebook Page
"Who cares?!?!?!?!?!?!?!? no really, who will do something to help them......EVER?"
US Dept. of Justice, Revised 12-14-06
Mental Health Problems of Prison and Jail Inmates

Huffington Post
Our Hero Florida Judge Ginger Lerner-Wren

​Olmstead Provides the Means to Solve Homelessness & Criminialization of People with Mental Illness as a Matter of Law
Psychologists for Social Responsibility -- April 3, 2016
​Too often, our participation in these settings supports existing structures of racial injustice, already so widespread they can appear commonplace and 'normal.'

"Given the long history and current confluence of forced segregation, mass incarceration, private for-profit prisons, solitary confinement, the school-to-prison pipeline, and other correlates of inhuman and degrading treatment, professionals need to look seriously at our ethical obligation to beneficence and non-maleficence.

"We need to recognize when we are rightly and actively resisting abuse and when we are instead complicit in maintaining abusive systems.

"It is our responsibility to align our ethical obligations to embrace and advocate for policies and practices that actively work to dismantle racial injustices in all settings in which we work."

​More concerns regarding the integrity of the State:
"O'Keefe accused prison officials of

understating the number of seriously mentally ill people

in solitary confinement, the number of inmates released directly from solitary confinement to the streets and how much time inmates spend outside their cells and other issues."
Where's Evidence-Based Sentencing ---Mental Health Treatment as a Reward for a Clean Record -- Wrong Answer!!!
---
huffington post

Our hero: Florida judge Lerner-Wren on the criminalization of people with mental illness as a matter of human rights
Human Rights Leaders -- But Is This Really Relevant?

Click the pictures to take you to related links.