A Comprehensive, Effectively Working Olmstead Plan: Accept NO Substitutes -- No Matter What the Hickenlooper Administration Says

Discriminatory & Non-Inclusive State Government for Very Poor People with Mental Disabilities is NO Substitute for Complying with the Americans with Disabilities Act & Olmstead.



​We Have A Lot To Do
One of the Most Obvious Deficits in CO's Olmstead Plan is Criminal Justice
This Equitas Summit looks like how the Hickenlooper Administration is trying to deal with that -- Would the H. Admin. just provide some real [& FREE] Olmstead Planning (even if you tried before-- try, try again) and stop discriminating against people with mental illness -- whether wittingly or unwittingly
This Equitas Summit Represents Such Good Intent & Such Horrible Gov't for People with Mental Illness
Our State Gov't Desperately Needs a "Course Correction"
when It Comes to Dealing with MI Discrimination & Inclusion Issues
We'll Be Asking for Guidance from the Office of Civil Rights on Hybrid Non-Profit Public Policy "Summits," Etc. with State Involvement
We're Really Looking to the Legislative Session & the Future
You Know Your Democracy Sucks When . . .
A Non Profit Can Come In & Charge $130 a pop for "influential" people on Criminal Justice & Behavioral Health Policy & the State is advising AND the State hasn't been willing to talk to you & the poor folks you represent -- GAWD
We Rushed To Judgment Against the State
Pay for Play Has To Go
Probably Going It Without the State, But Not Going It Alone
Mental Health is the Issue that May Very Well Define This Century -- But What About Michael Marshall?
Check Out Val's Blog:
ADHD: Reciprocity, Rejection Sensitive Dysphoria, Differences in Intensity


Tweaking, not Twerking ACT
After a look back & a look forward

​NPR

​The Growing, Disproportionate Number Of Women Of Color In Jails
ADHD --A Public Health (& Criminal Justice) Issue of Biblical Proportions -- MORE BELOW

American Academy of Psychiatry & Law (June 2016)
​Our Goal: A system of Community Mental Health Services & Housing robust enough to serve the needs of Coloradans & prevent unnecessary Homelessness & Criminal Justice involvement while respecting Individual Rights.
Colorado: Power Is As Power Does
The Most Important Health Disparity/Health Equity Issue In the Country and Colorado Today:
In the Large Dockets of Colorado Courts and the Large Caseloads of the Public Defender's Office and the Mental Health Centers -- What Most Often Is Lost Is the Person To Incarceration or Prolonged Jail Stays
​
We Have A Lot of Pieces for a Housing Coat of Many Colors --BUT We Don't Have the Completed Coat Yet

Reasonable Accommodations: For Homeless People with Mental Illness, Brain Injury, Etc. to Get Housing & Services
DOJ Goes After Mississippi for Failure to Provide Sufficient MI Community Services -- It's Called Discrimination
Creating a "Safe Zone" for People Caught in the Homeless/Incarceration Cycle
We Need State Accountability for Providing Sufficient Housing for People w/ Mental Illness
Brandon Marshall: Mental Health is a Civil Rights Issue -- It's Important We Push America Forward
Should We Be Using A Strength-Based Approach On The State?
BHO Contract Provisions on "Members Involved w/ the Correctional System"
Trying To Get To The Next Level:
ACT, Colorado & Transparency
"Alternative" Mental Health Services
are a Window into CO's
​Olmstead Compliance Problems
Disability Law Colorado, Super Lawyer Iris Eytan, & the Colorado Lawyers' Committee Bring Some Justice to an Unjust System
Locals Taking the Lead on MI, Is that a Substitute for State Leadership?

No, it really isn't
Judicial Reform Could Mean Greater Attention on Mental Health, Disabilities

Bill in Congress would grant greater discretion to judges when sentencing people to jail -- But What About Housing & Services?
Discrimination Affects Our Mental Health -- We Need To Get Out of This Feedback Loop
How an Inadequate Mental Health System Keeps On Giving to a System of Incarceration
Applying Principles of Federal Law to Colorado
So What Are We Going To Do About State Arbitrariness & Capriciousness?
Arbitrariness & Capriciousness is NOT Something We Can Tolerate From State Gov't
Divergent Thinking --- Race, Mental Health, The Criminal Justice System & Stakeholder Groups
​
ABA Commission on Legal Problems of the Elderly
Building Coalitions in Aging, Disability and Dispute Resolution
You Know You've Got a Bad Gov't When --
The State Won't Agree to Strength-Based Discharge Planning
Oh, That Other Cost of Mental Health Systemic Failure -- Scapegoating
More On Application Assistance: It's a Familiar Story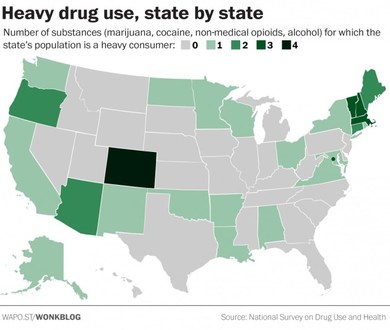 ---
'Every societal failure, we put off on cops to solve…That's too much to ask'
‒ Dallas police chief
We've Got Housing Trusts in the US
So Why Is Housing a Problem for People with Mental Illness?


A Conundrum for the States -- A Nightmare for People with Mental Illness:
​The ADA & Olmstead require States to provide Housing in certain circumstances to people with disabilities to avoid unnecessary institutionalization; BUT Housing is NOT a Federal Entitlement like Medicaid
It Just Keeps Coming . . .
Why Is Michael Marshall Dead?
Of Course, All Lives Matter
BUT Sometimes We Don't Really Act Like Black Lives Matter, or the Lives of People with Mental Illness
House Passes Mental Health Reform

America's Female Prison Population Has Grown 800% & Nobody Is Talking About It --
Well, the Boulder Co. Sheriff is Talking About It.


The Perils of State Indifference for the Mental Health Community
State Mental Health Cost Shifting to County Jails Exposes the Moral Choices States Have & Continue to Make
First, we don't know any better;
Then, we know better but we don't do better;
Now, We know better & WE CAN DO BETTER!
Hey Babies, There's A Lot of Diversity Out There -- & If We Don't Educate Ourselves, We Can Make People Sick
We Just Don't Feel the State Is Taking the Moral High Ground
Discrimination that Shocks the Conscience:
Trading the Hospital Room for the Jail & Prison Cell
Colorado G-DDAM!
Comments from
the Orchid Facebook Page
"Who cares?!?!?!?!?!?!?!? no really, who will do something to help them......EVER?"
US Dept. of Justice, Revised 12-14-06
Mental Health Problems of Prison and Jail Inmates

Huffington Post
Our Hero Florida Judge Ginger Lerner-Wren

​Olmstead Provides the Means to Solve Homelessness & Criminialization of People with Mental Illness as a Matter of Law
Psychologists for Social Responsibility -- April 3, 2016
​Too often, our participation in these settings supports existing structures of racial injustice, already so widespread they can appear commonplace and 'normal.'

"Given the long history and current confluence of forced segregation, mass incarceration, private for-profit prisons, solitary confinement, the school-to-prison pipeline, and other correlates of inhuman and degrading treatment, professionals need to look seriously at our ethical obligation to beneficence and non-maleficence.

"We need to recognize when we are rightly and actively resisting abuse and when we are instead complicit in maintaining abusive systems.

"It is our responsibility to align our ethical obligations to embrace and advocate for policies and practices that actively work to dismantle racial injustices in all settings in which we work."

​More concerns regarding the integrity of the State:
"O'Keefe accused prison officials of

understating the number of seriously mentally ill people

in solitary confinement, the number of inmates released directly from solitary confinement to the streets and how much time inmates spend outside their cells and other issues."
Where's Evidence-Based Sentencing ---Mental Health Treatment as a Reward for a Clean Record -- Wrong Answer!!!
---
huffington post

Our hero: Florida judge Lerner-Wren on the criminalization of people with mental illness as a matter of human rights
Human Rights Leaders -- But Is This Really Relevant?

Click the pictures to take you to related links.